EXHIBIT SALES AND RENTALS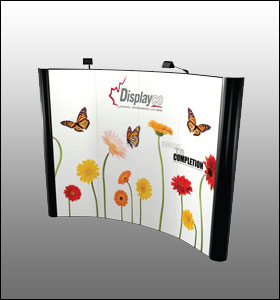 EXHIBIT SALES
Displays and exhibits emphasize and attract attention at exhibitions, events, inside and outside retail outlets, or directly at the point of purchase. Derrick Exhibit can meet all these requirements with diverse display and presentation products.
EXHIBIT RENTALS
Exhibiting once or twice per year may not justify the capital cost in having a display sitting idle. You may already own a portable display but require something with more impact for that all important event. Derrick Exhibit has a complete inventory of rental systems that allow you to put your name on our properties, leaving your customers with the right impression. These rental displays range from a folding tabletop panel to a custom designed modular exhibit. Let us come up with the right solution for you!
PORTABLES
Our line of "portables" are lightweight displays used to create a distinct marketing environment for businesses just beginning to explore the world of event marketing or, who may be looking for a simple presence at seminars, workshops or other locations where space is limited. Derrick Exhibit can assist you with your portable display needs. Products range from unique banner stands, folding panel display systems, to expandable "pop-up" displays. All options are competitively priced, durable solutions, designed to "take the show on the road".
MODULAR
This line is a step up from your basic "pop up". Modular systems provide efficiency and effectiveness by setting standards that are helpful and save time. Derrick Exhibit is an OCTANORM worldwide partner which specializes in the creation of "intelligent" system design solutions. These expertly crafted designs are intended to have the least number of components with the maximum number of possibilities.
CUSTOM / MODULAR EXHIBITS
By combining some custom millwork with a pre-fabricated or modular component (Octanorm), Derrick Exhibit can develop a unique look for your company at a fraction of the cost of a custom fabricated solution. Flexibility in design means the same exhibit can be configured many different ways depending on space requirements. As your marketing needs grow these exhibits can be expanded to grow with you.
CUSTOM EXHIBITS
Utilizing your company's unique identity, Derrick Exhibit will create a custom exhibit your target market will recognize instantly. Our objective is to create a marketing environment that will attract maximum exhibitor traffic, priced within your budget. A custom exhibit will provide an exciting environment, projecting an image of stability and success.
RETAIL DISPLAYS
Effective presentation is a key component to successful selling. Only the product on display should attract attention. From product showcases to literature racks, Derrick Exhibit can supply innovative presentation solutions.
Derrick Exhibit is now a part of the Displayco Team!
Please visit Displayco's website and we thank you for your patience during this transition!
Calgary | Edmonton | Houston
www.displayco.ca | 1-888-343-SHOW (7469) | This e-mail address is being protected from spambots. You need JavaScript enabled to view it